The TimeControl Crew Timesheet Entry Interface
TimeControl Industrial brings field data collection one step further with a high-volume Crew Timesheet Entry interface.
TimeControl Industrial's Crew Entry Timesheet includes several elements of functionality to make this one of the most effective field data collection applications for timesheet entry. The features start with the Crew Entry Timesheet interface. This screen is included both within a web-browser and, for high-volume data entry, as a Windows Application. Timesheet Entry personnel are able to create a timesheet for the entire crew at once. Default entries for rates, projects and other fields allow keystrokes to be minimized.
When there is a large crew at work, there can be a high volume of line items. A common entry from the field is "The entire crew did this task for half the shift." TimeControl Industrial answers this challenge with the Crew Timesheet Insert. Click one button and a screen with the entire crew is displayed. Another click and you've selected the entire crew. Select the project, charge, rate and hours and instantly a timesheet line is created for each member of the crew. Need to add more lines for only a part of the crew? No problem. Use Insert again and select only some crew members on a single dialog and the task they were working on and those lines are also created for you. You can also simply add individual lines for each crew member within the timesheet.
Functionality in the Crew Timesheet does not end there. The timesheet is infinitely flexible. You can hide columns you never use or add user defined columns for information that may be specific to your situation. Need a shift number? Easy; add a column for that. Need a pull-down list of weather conditions? No problem; add a column for that. This data is then tracked on the timesheet line and can be used later to export to the payroll or billing systems.
With a large crew timesheet one challenge can be ensuring that you have accounted for the hours of every member of the team. The Worksheet button lets you sum by employee, project, rate or task for the entire page with a single click.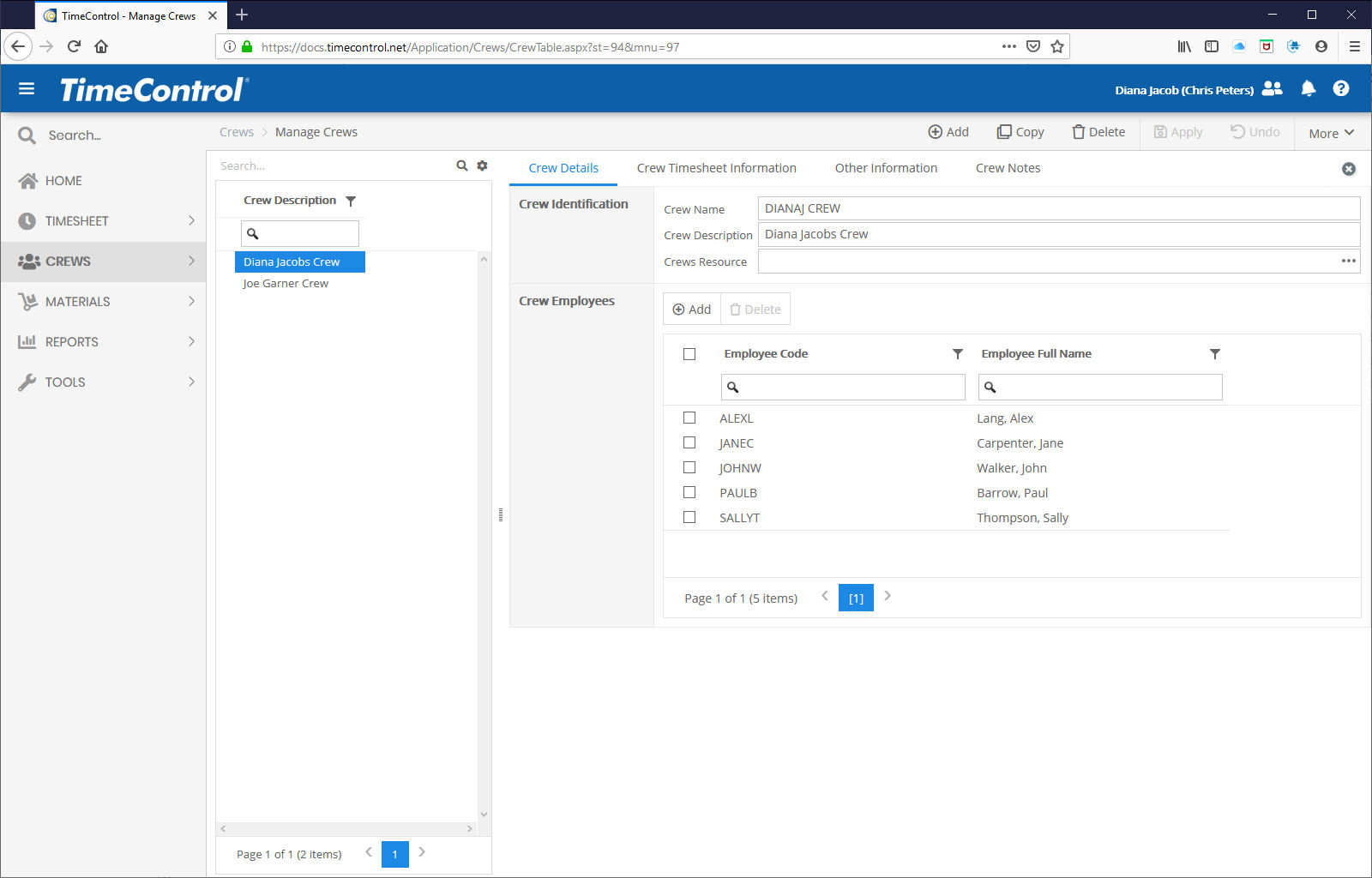 Just like with the classic TimeControl, there are timesheet validation rules except with the crew timesheet they can be extended from rules per individual to the entire crew. There is no limit to the types of rules you might create to ensure that the crew timesheet data is accurate.
Once timesheets have been entered, approvals are checked with the automatic validation rules and then data can be sent through a crew-specific approval process. If the crew timesheet is approved, it can be ready immediately for payroll or invoicing. Project managers will also be able to review the data line by line as part of TimeControl's unique "Matrix Approval Process" before accepting the data back to a scheduling system such as Primavera or Microsoft Project.
There is additional functionality for adding notes per line, notes per timesheet, estimate to complete information on the tasks completed (to update a project management system) and even expense reports that are employee specific such as hazard bonuses.
Managing Crews is also part of the Crew Entry Timesheet. Personnel can be part of one or multiple crews and moving a member on or off of a team is simple.
The free TimeControl Mobile App has special features when it is connected to TimeControl Industrial. You will be able to create, edit and release Crew Timesheets right on a Smartphone or Tablet. You can also adjust team members from the App. This gives field data collection a whole new perspective as it can really be brought right to the field. If you lose connection to your TimeControl Industrial site while in the field due to a poor Internet connection, the TimeControl Mobile App keeps on working asynchronously and will synchronize with the main system automatically as soon as a connection is re-established. The TimeControl Mobile App is available on Google Play for Android devices and the Apple App Store for iOS devices.
TimeControl's already remarkable rate system is tied to the timesheet and the Crew Timesheet but TimeControl Industrial supports Extended Crew Rates. This system allows you to combine selections of any fields in the Crew Timesheet (including user defined fields) with matching rate values in the extended rate system. So payroll rules which require knowing what project, what shift, what location whether the crew member was in a hazardous condition, and even what the weather was is easy to capture in columns on the Crew Timesheet and then match against premiums in the Extended Rates system.
Crew Entry Timesheets can be done for an entire week, for a single day or multiple times per day to be able to accommodate multiple shift work.