Missing Timesheets and Email Notifications
TimeControl has always been known for doing the thing that's hardest to do with timesheets - we find them when they're not there.
Real-time notifications
TimeControl includes real-time notifications of events that may be important to you. Aside from email notifications sent for events such as a missing timesheet or sent on demand by other users for events such as a rejected timesheet, TimeControl' real-time notifications pop up right at the top of the screen if there is something that needs your attention.
Missing Timesheet Report
The Missing Timesheet report displays a list of timesheets that are either missing, not yet approved or both over a selected time period so that supervisors or administrators can quickly locate those timesheets in order to complete a period. The missing timesheet report shows the timesheet status for all the employees requested. The report will show timesheets that have not been started, timesheets that were created by the employee but are still in draft mode and timesheets that have been released for approval but have not been approved by the supervisor.
The report can be restricted so that supervisors can run it only foe their own department and administrators can get a perspective for the entire organization.
The Missing Timesheet report contains numerous options and can be distributed to supervisors with the constraint that they can use it only for their own part of the organization.
Email Notification
TimeControl's automated email notification can be used on demand but it is most popular when it is automatically scheduled. The missing timesheet notification allows the administrator to pre-define an email that will be sent at a particular time. The email can be sent to those whose timesheets are completely missing or those who are currently holding onto a timesheet that may be in progress but has not completed the approval process. Since multiple emails and multiple schedules can be supported, different emails can be sent for different situations. For example, a friendly reminder email can be sent on the day timesheets are to be completed before the end of the day. The next morning, a stronger email can be sent reminding anyone without a completed timesheet that it is being waited on. A different email can automatically go to supervisors who have timesheets that are not yet completed their approvals to make sure they get them in. Since the email only goes to those whose timesheets are incomplete, there's no need to worry that people who have gotten their timesheet in are being bothered.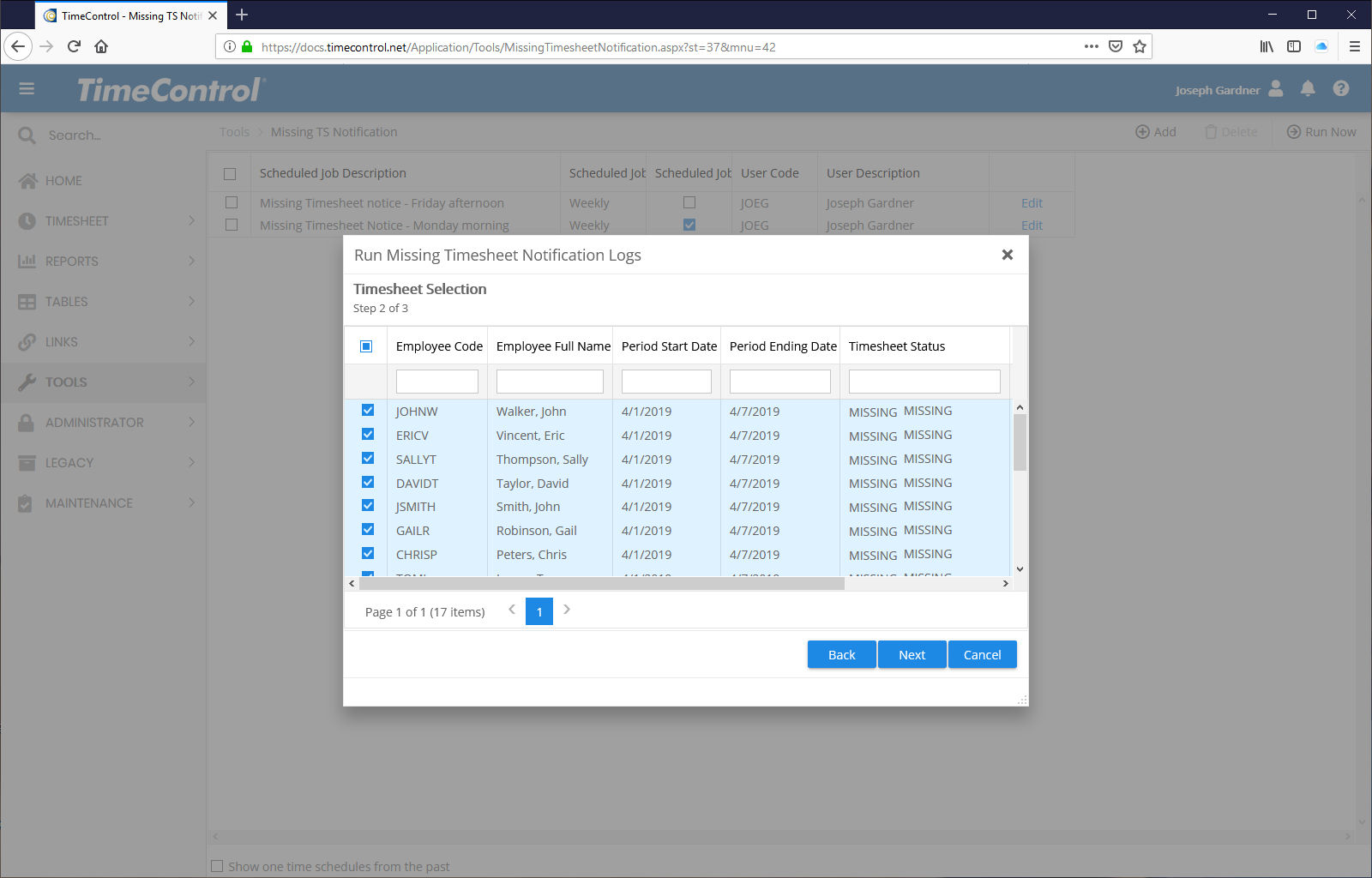 Email notification can be used for the entire organization or individual supervisors can use the function for only those in their own team.
TimeControl's Email Notification module is a powerful tool that results in shorter timesheet approval cycle times.