TimeControl and BrightWork

Looking to blend the best in class of Project and Portfolio Management system with Enterprise Timekeeping? Then consider the BrightWork / TimeControl combination.
Project Management has always been a collaborative process. Modern communication has brought global 24x7 access to everyone. Now being able to not just speak to your project team but to use interactive project tools to blend documents, data and messaging can make the difference between success and failure.
BrightWork's SharePoint-based project and portfolio management system brings cutting edge project management processes together with the most popular collaboration platform in the world. Modern communication is multi-mode and always on so bringing your project management communications into a collaborative modern world is essential.
TimeControl and BrightWork
TimeControl brings enterprise timesheet management to this collaborative process with a bi-direction integration with BrightWork.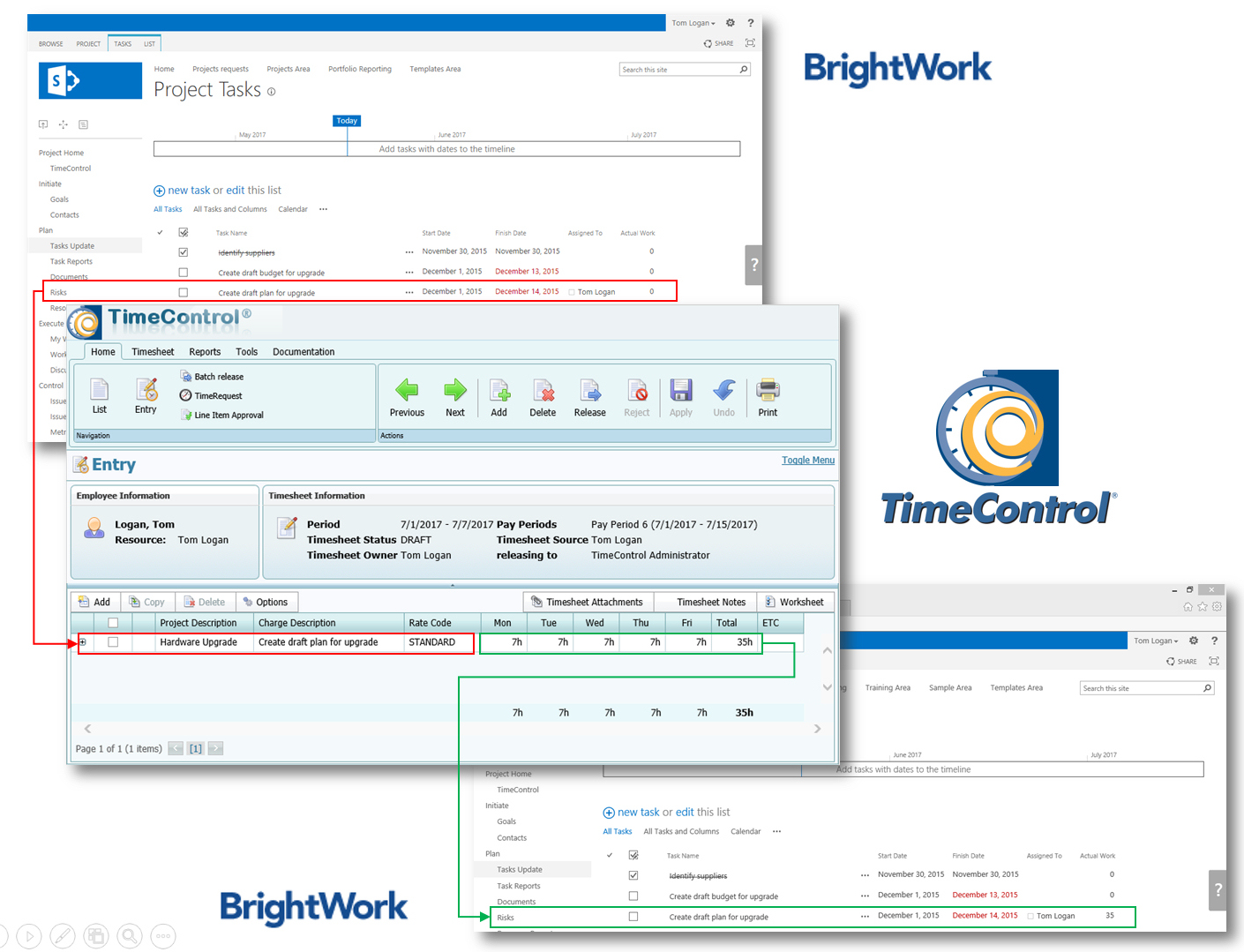 Integrating TimeControl with BrightWork brings a new level of best in breed project and portfolio management process together with auditable actuals. Now enterprise timesheets can work seamlessly with the BrightWork collaborative project management system. The link brings BrightWork project and task information to TimeControl, presents that information to end-users who can provide their end of day or end of week updates on these tasks along with any other non-project timesheet information at the same time.
Many project management require timesheet data to do more than just update the tasks in the project management system. There are also requirements to provide auditable labor and cost information that is used for systems such as Billing, Payroll or Job Costing.
Now all these needs can be provided for simultaneously through the BrightWork TimeControl combination.
HMS and BrightWork have worked together to design the integration between TimeControl and BrightWork so users have a single point of entry for their timesheet information for numerous systems at one time.
The link is included with TimeControl and can be used with BrightWork on premise or in the cloud.
For more information about BrightWork, visit BrightWork.com
To speak to an HMS representative about the link between TimeControl and BrightWork, go to Contact Us or email info@hms.ca.
Related Content
TimeControl and BrightWork Webcast

Watch this demonstration of TimeControl and BrightWork taken from a live webinar given by both the BrightWork and HMS staff. The demonstration shows how integrating TimeControl and BrightWork can create a powerful collaborative project management environment where timesheets are seamlessly woven into the process.

Note: This webcast requires registering with the TimeControl/HMS Software website which is free.

Log In/Register

Integrating TimeControl and BrightWork factsheet

TimeControl and BrightWork can be configured to integrate with each other providing the best of breed for both project/portfolio management and multi-function timesheeting in the same system The TimeControl / BrightWork integration has been designed by cooperative teams from both HMS Software and BrightWork. This four page factsheet outlines some of the benefits of working with both products together.

Open Factsheet

Using TimeControl with BrightWork

TimeControl and BrightWork can be configured to integrate with each other providing the best of breed for both project/portfolio management and multi-function timesheeting in the same system The TimeControl / BrightWork integration has been designed by cooperative teams from both HMS Software and BrightWork. These presentation slides are the same used in the TimeControl/BrightWork webcast.

Open Presentation