Time and Billing
TimeControl is a timesheet designed to fulfill many roles simultaneously. It allows a single timesheet entry to be configured to serve the needs of Time and Attendance, Project Tracking, R&D Tax Credits, Payroll, Job Costing, Human Resources Tracking and Time and Billing.
The Time and Billing features within TimeControl are extensive. They include:
Easy to use interface supporting multiple browsers and mobile entry
TimeControl's easy to use interface can be updated from anywhere and supports a wide range of web-browsers. End users need only log into the system and their timesheets can be pre-loaded with work that was assigned to them or from tasks they wish to see each week on their timesheet. Projects can be grouped by client and appropriate rate codes can be displayed automatically. They can add tasks easily from a drop down list of options and, if required, even enter free-form notes about the work accomplished that can be used to justify an invoice at a later date. TimeControl also includes a mobile interface to be used to enter your timesheet from a Smartphone such as the iPhone, Blackberry, Android or Windows Mobile 7 device.
Expense entry
For some users, there is a non-labor aspect to time and billing. TimeControl includes expense entry right in the timesheet. Users can add an unlimited number of non-labor entries with the exact monetary value and other details. These amounts can be reported on or exported to billing or finance just like the timesheet hours.
Table flexibility
It is TimeControl's remarkable flexibility of its data tables that allows it to serve so many different requirements from a single timesheet entry. Using this flexibility we can group projects and tasks by Client, make a list of clients to choose from, link the Rates table to the Project table or even repurpose the project list to an extensive client list for a simple non-project entry. Our goal is to have TimeControl adapt to your business process, not make your business process adapt to your timesheet software.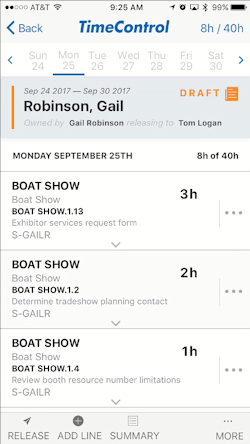 Unlimited multi-value Rates
Rates are a key aspect of billing and anyone who has had to implement a billing system knows that rates can come in many fashions. TimeControl supports an unlimited number of rates per employee and for each of those rates, we can have up to 9 values. This allows us to use several rates for each project for each employee. So one person could be billed at one rate for one project and a very different rate for another project and yet internally would be paid at the same rate for either. Using the extensive rate system in TimeControl we can make regular rate, overtime rates, premium rates, unbillable rates and an infinite number of other rates per person. This is unparalleled in the timesheet market today.
Validation Rules
TimeControl's business validation rules allows the administrator to define what makes an acceptable timesheet. This can include both simple global rules and complex rules to ensure that the data accepted by the system already passes any tests for quality that we'd otherwise do manually.
Reports and Dashboards
TimeControl's reporting and dashboarding functions are as flexible as the rest of the system. The Report Wizards let you make summary or detailed reports by client, by project, by person, by date or any combination.
Links to external billing, finance, HR, payroll and project systems
Finally TimeControl has been designed from the ground up to link to other systems. Its Links module lets you define links in and out of the system where you can send one type of transaction to a billing system, another to an HR system, yet another to a payroll system and service and another to a project management system all from the same data. TimeControl keeps all of that organized in the background so you don't need to.
Related Content
TimeControl for Time and Billing

This on-demand webcast shows TimeControl configured for Time and Billing in action. This demonstration shows TimeControl data organized by client with per-project billing rates that include standard time, overtime and unbillable time per project. The demonstration shows a timesheet entry, table design, summary and detailed reports and even reports showing how the same hours are costed for internal cost and priced for external billing at the same time.

Watch Webcast

TimeControl and ERP

A brief overview of how TimeControl can be linked to both your ERP/Finance system and a project management system.

Open Factsheet

TimeControl for Time and Billing

This white paper describes how to configure TimeControl for Time and Billing. While there may be many possible configurations for Time and Billing that TimeControl would support, this simple design covers all the basics including project-based per-employee rates, projects grouped by client, summary and detailed reporting and exports for Finance and Billing.

Open Whitepaper